December Rodman Reservoir Fishing
Things are changing in Florida rapidly. As the temperature begins to cool, Florida bass begin to get active. The Florida bass fishing spawn is upon us and now is the time to explore the wonderful fisheries here in Florida. When planning your next North Florida vacation, be sure to add some Rodman Reservoir bass fishing for an adventure of a lifetime. Come enjoy some December Rodman Reservoir Fishing!
The Rodman Reservoir is most likely one of the most unique fisheries in the state of Florida. Now, as the drawdown continues to happen, it is becoming even more picturesque. Our local experts can show you around this amazing place and get you on the fish of a lifetime.
Meet Robert, he was traveling from Ohio looking to get on some big bass in North Florida. While visiting, Robert explored a Rodman Reservoir fishing trip. Captain David Lang had the pleasure of showing him around this beautiful fishery.
During the drawdown periods on the reservoir, you can experience some excellent fishing. Robert had a blast landing over 15 largemouth bass in his short 4-hour fishing adventure. He had 5 bass in the 5-6 pound range.
Windy conditions made it an interesting fishing trip. Sometimes the wind can help put you in areas that are protected where the fish are hiding waiting for bait to roll through. All-in-all, Robert had a great time on the water.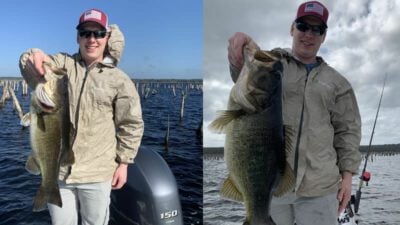 Captain David is looking forward to their next adventure on the water!
Just shortly after this fishing trip, Vance came to see what the Rodman Reservoir drawdown had to offer. As the fish are stacking up, he wanted to catch some larger bass on this fishing trip. Captain Ken Walker had the pleasure of getting them out on the Rodman Reservoir.
The reservoir is starting to heat up. As the temperatures and water levels continue to drop, the bass will prepare to spawn. You are just going to have to locate the fish and get around them. Luckily, our local experts will get you around the fish during this period of time.
Vance had a blast bass fishing on Rodman. He caught over 12 beautiful largemouth bass with a trophy bass in the mix. This fish weighed 8 pounds 4 ounces. When you get a fish of that magnitude in your hands, it makes every trip a success.
Captain Ken is looking forward to getting back out on the water with Vance again soon!
The Rodman Reservoir is starting to heat up with a lot of great bass being caught. If you love to crappie fish, the fishing for these tasty treats is picking up as well. You never know what a trip on the Rodman can produce for you.
One thing that is certain is that our local experts will work hard to make sure you have a fantastic time on the water. Every trip can be customized to your own needs and wants. We look forward to potentially seeing you out on the water next time!
If you enjoyed this post with our Local Experts, you might also enjoy this fishing report from the same area.